More people sit behind bars in the United States than in any other country on Earth, and private prisons, whose business model depends on increasing the number of people in detention, have mushroomed because of this malevolent economic reality. The AFT has long taken a stand against this unprecedented rate of incarceration, which overwhelmingly and discriminatorily impacts communities of color. In our new report, "Private Prisons and Investment Risks, Part Two: How Private Prison Companies Fuel Mass Incarceration—and How Public Pension Funds Are at Risk," we tell investors how investments in private prisons put our retirement savings at risk—and how public pension funds have a powerful role to play in holding these companies accountable.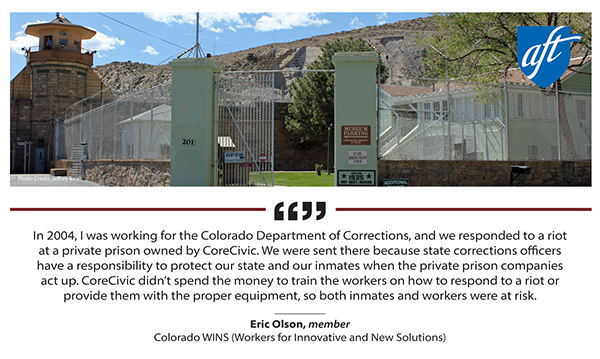 Although people of color comprise only 30 percent of the population, they make up 60 percent of the incarcerated population, and the American Civil Liberties Union estimates that 1 out of every 3 black boys born today and 1 out of every 6 Latino boys can expect to go to prison in their lifetimes—compared with 1 out of every 17 white boys. And according to the NAACP, black women are imprisoned at twice the rate of white women. America's overfilled prison system has created a commerce in the caging of humans, with private prisons making enormous profits off of the state and federal need to house these prisoners.
"This is, first and foremost, a humanitarian and civil rights issue—but it is also a financial issue that brings the misaligned incentives of our justice system into stark relief," AFT President Randi Weingarten says. "Private prisons and private equity firms that invest in corrections companies are profiting from jailing people—disproportionately people of color—and are a major contributor to the United States' world-leading incarceration rate."
The United States hasn't always been the world's largest jailer. Most of the explosion in the number of people incarcerated has occurred only over the last several decades, and can be attributed in part to the war on drugs, beginning in the early 1980s. While the mass incarceration of people of color has had a devastating impact on entire communities, there are a number of companies that profit from their imprisonment. CoreCivic and the GEO Group are the largest of these companies. They rely largely on contracts with local, state and federal governments to build, manage and operate prisons, and their growth depends upon the growth of the prison population. Between 2000 and 2016, the number of people incarcerated in private prisons grew five times faster than the total prison population, and the number of people in private immigrant detention centers increased by more than 440 percent.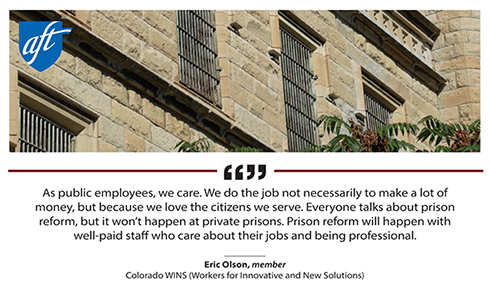 Private prison companies have no incentive to address the problem of mass incarceration. These companies do, however, have an incentive to cut costs in order to maximize their profits, and many achieve this by lowering wages for workers, understaffing, skimping on training and providing as little services
as possible to inmates—at times breaking the law and at the expense of inmates' health, safety and lives.
"In 2004, I was working for the Colorado Department of Corrections, and we responded to a riot at a private prison owned by CoreCivic," says Eric Olson, a member of Colorado's Workers for Innovative and New Solutions. "We were sent there because state corrections officers have a responsibility to protect our state and our inmates when the private prison companies act up. CoreCivic didn't spend the money to train the workers on how to respond to a riot or provide them with the proper equipment, so both inmates and workers were at risk."
The mass incarceration crisis is felt deeply by educators. Many teach students whose parents or other family members are or have been incarcerated. The National Resource Center on Children and Families of the Incarcerated at Rutgers University estimates that more than 2.7 million children in the United States have an incarcerated parent, or about 1 in 28 children. According to the Economic Policy Institute, students with a parent who is or has been imprisoned are more likely to drop out of school, develop learning disabilities and suffer from ailments such as asthma, anxiety and post-traumatic stress disorder.
Furthermore, "zero tolerance" discipline policies at schools have a disproportionate effect on students of color, who face greater rates of suspension, expulsion and being brought up on criminal charges. The effect has been students leaving public schools, which provide the support and resources they need.
AFT members work hard to protect their students with social-emotional learning strategies to create safe and welcoming classrooms that are attuned to their unique needs. But our members have another way of fighting back: through their pension funds.
Large, for-profit prison operators like CoreCivic and the GEO Group, along with a number of smaller companies owned by private equity firms that provide support services to detention centers, together make billions of dollars annually. A large number of public pension funds have tens of millions of dollars' worth of exposure to the private prison industry through their investment portfolios in these companies. As a result, mass incarceration is not only a racial justice and civil rights issue—it is also an investment issue.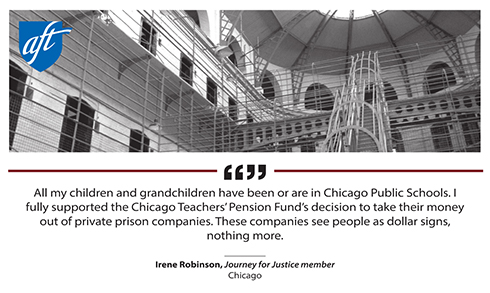 "As a public school parent, I know teachers work hard to educate our children. We don't want our children to end up in prison, and it's heinous that there are companies that think prisons are a good way to make billions," says Maulana Tolbert a parent from Detroit. "It's time to rethink how our money is being invested. Our children are our future."
A number of public pension funds have already taken steps to mitigate fueling the mass incarceration crisis, with three of the four largest public pension funds in the United States—the California State Teachers' Retirement System, the New York City Employees' Retirement System and the New York State Common Retirement Fund —divesting from direct holdings in private prison companies over the last two years. Two other funds in which AFT members participate—the Chicago Teachers' Pension Fund and the New Jersey State Investment Council—also voted to divest from private prison companies in recent months, indicating a growing recognition among pension funds that private prison investments pose serious investment risks to workers' retirement savings.
 "The bipartisan criminal justice bill passed by Congress and signed by the president in December shows the tide may be turning quickly against this abhorrent industry," Randi Weingarten says. "All these factors—humanitarian, fiscal, legal, regulatory and political—create significantly riskier investments. Pension trustees have a fiduciary duty to ensure workers' capital is invested in a fiscally prudent manner," Weingarten says. "We are working closely with the AFT Trustee Council to safeguard workers' retirement security to ensure our members and retirees reduce their exposure to the risk these firms traffic in."
Mass incarceration of black and brown people in the United States is a civil rights and humanitarian issue that impacts communities across the country, including places where AFT members live and work. The AFT is committed to working together with our allies to put an end to mass incarceration so that no child or family we serve has to endure the injustice of this practice, and so that for-profit corporations can no longer enrich themselves off of locking up communities of color.
If you are paying into a pension fund or receiving your pension, we urge you to speak up. Read the report to learn how you can find out if your pension fund's investment portfolio includes private prison and corrections companies, and how to direct your pension fund staff to divest.
Even if you don't have investments of this kind, you can still stand up for what's right by informing your friends and family about this issue. Share the report on Twitter and Facebook.
Editor's note: This is the AFT's second report in a two-part series highlighting the investment risks to pension funds whose portfolios contain investments in the private prison industry or contractors who provide services to immigrant detention centers. Don't miss the first report in the series, "Private Prisons, Immigrant Detention and Investment Risks," released in August 2018, which identifies investment managers who invest millions of dollars in companies that profit from family separation and the risks those investments pose to our members' retirement security.
[Elizabeth Sell]